World Wide News
China grapples with extreme weather: Scorching heat, heavy rain, and flooding
Employers across much of China were ordered Monday to limit outdoor work due to scorching temperatures, while the east and southwest were warned to prepare for torrential rain as the country struggled with heat, flooding and drought.
Temperatures as high as 104 F were reported in cities including Shijiazhuang, southwest of Beijing, the capital. Highs of 95 F to 100 F were reported in Beijing, Guangzhou in the south, Chongqing in the southwest and Shenyang in the northeast.
The weather agency issued an orange alert, its second-highest warning, for heat across southern China and much of the north and northeast. That requires employers to limit outdoor work, though delivery workers for restaurants and online retailers were still working.
The agriculture ministry warned Sunday that persistent hot weather could damage rice harvests and told local authorities to ensure adequate water supplies to prevent the crop from ripening prematurely.
Meanwhile, the Ministry of Water Resources warned the provinces of Shandong on the east coast and Sichuan in the southwest to prepare for heavy rain from Tuesday to Friday, according to the official Xinhua News Agency. It said multiple rivers were likely to rise above safe levels.
NORTH KOREA WARNS IT MAY SHOOT DOWN US AIR FORCE PLANES INTRUDING INTO ITS AIRSPACE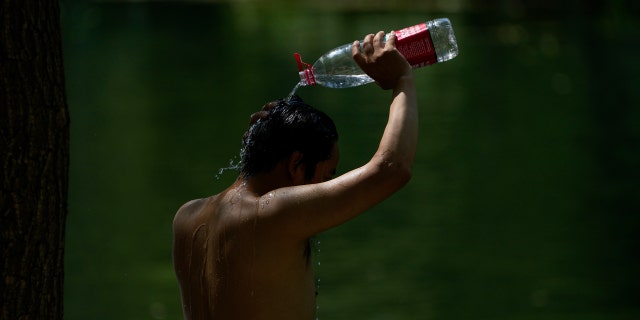 CLICK HERE TO GET THE FOX NEWS APP
In the central city of Yichang, in Hubei province, heavy rain triggered a landslide Saturday that buried a highway construction site and killed one person. Authorities were searching Monday for seven missing construction workers, Xinhua reported.
Business and schools in Heilongjiang province in the northeast were ordered Monday to close and shut down outdoor electrical equipment after 3.3 inches of rain fell in one hour, according to state TV. It said traffic police were ordered to close dangerous road sections.
Tens of thousands of people who were driven out of their homes by earlier flooding moved to shelters in northern, central and southeastern China.
Residents of some cities have moved into underground air raid shelters to escape the heat.
Earth's average temperature set a new unofficial record high last Thursday, the third such milestone in the hottest week on record.