USA News
17-Year-Old Killed, 2 Wounded in Shooting Near Los Angeles Mall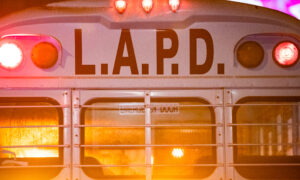 LOS ANGELES—A 17-year-old boy was shot to death and two other males were wounded near the Beverly Center July 9 and the shooter was still at large, authorities said.
Officers were dispatched at 3:50 a.m. to West Third Street and South Orlando Avenue, where the boy was pronounced dead at the scene, according to the Los Angeles Police Department.
Paramedics rushed a 17-year-old boy and a 26-year-old man to nearby Cedars-Sinai Medical Center, where they were listed in stable condition.
The suspect was last seen fleeing the area on foot southbound on Orlando Avenue, police said.
According to ABC7, the shooting occurred outside Berri's Cafe, which is open until 4 a.m.
LAPD West Bureau homicide detectives urged anyone with information about the shooting to call them at 213-382-9470 or 877-527-3247.
Tipsters can also call Crime Stoppers at 800-222-8477 or use the website.