USA News
Analysts: Jenin Violence Heralds New Era in Israel-Palestinian Conflict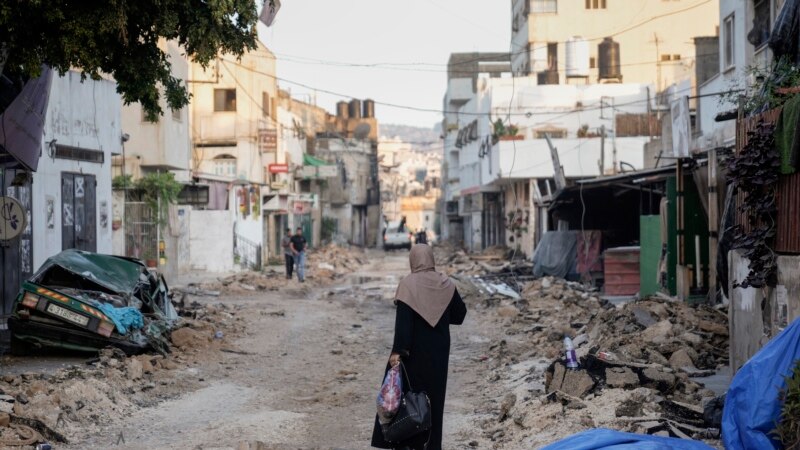 Amman — 
The United Arab Emirates has promised $15 million in aid to support United Nations relief operations in Jenin after deadly violence turned the refugee camp's streets and houses into rubble and cut off power and water.
U.N. Secretary General Antonio Guterres urged Israel to abide by its international legal obligations, saying that "escalation is not the solution," warning that violence "simply bolsters radicalization."
Israel maintains that it was uprooting radical militants and weapons caches in the West Bank camp.
Observers like Jordanian independent analyst Osama Al Sharif see Israel's military incursion as encouraging more Palestinian youth to join militant groups. That's because, he told VOA, there are no tangible results from a moribund peace process, while many reject the aging and ineffective leadership in the Palestinian Authority.
"It's a generation in despair. There hasn't been any kind of genuine attempt to create hope for the majority of Palestinians in the occupied territories. This Palestinian Authority is incapable of protecting the Palestinians in the areas it controls. The only thing that the Israelis want from the Palestinian Authority is security coordination. They're not talking to the PA over a peace process. They are not in favor of an independent Palestinian state. They are against a two-state solution. So, what else is there for especially those young Palestinians increasingly seeing what is left of the West Bank being colonized by Jewish settlers?" said Al Sharif.
Washington Post columnist David Ignatius blames both Israel and the Palestinians for the worrying developments.
"The Palestinian Authority's security forces," he said, "have lacked the firepower or will to challenge the growing presence of Hamas and Islamic Jihad" in Jenin, both militant groups backed by Iran.
Others, like the Jenin Brigades, have risen to confront violence by Jewish settlers. The group reported that eight of the 12 dead were its members, while hundreds of others were wounded.
Ignatius also criticized Israel's "refusal to control and discipline the ever-expanding [Jewish] settlements in the West Bank" undertaken by its current hardline nationalist government, pointing out that even if both sides really wanted a Palestinian state to materialize now, "there is simply not enough land left in a small territory dotted with Israeli settlements and 'outposts.'"
Michael Milstein, a former adviser to the Israeli agency overseeing Palestinian affairs in the West Bank, told London's Financial Times that Jenin is a wake-up call.
"The basic problems in the West Bank are much deeper than terror or military or security problems. You also need to take care of political and social and economic problems," Milstein said, pointing to the apparent disintegration of the Palestinian Authority.
Jordanian analyst Al Sharif said there doesn't appear to be an endgame.
"We are reaching the point of truth. When you are talking about a second or third intifada, an implosion. All negative scenarios are there waiting to happen because simply there is no alternative, no political process," said Al Sharif.
He said that inside Israel, there also seems to be no answer to what is next.