The stars are officially out at T-Mobile Park.
Baseball's top players have arrived in Seattle for a full day of MLB All-Star festivities on Monday. The celebration starts with Media Day at 11 a.m. and ends with the Home Run Derby at 5 p.m., but the party doesn't stop in between.
We've got you covered with writers, photographers and videographers ready to capture the sights and sounds of MLB All-Star Week across Sodo. Follow along throughout the day here.
Jump to: Live updates » | Comments »
Complete coverage

MLB All-Star Game in Seattle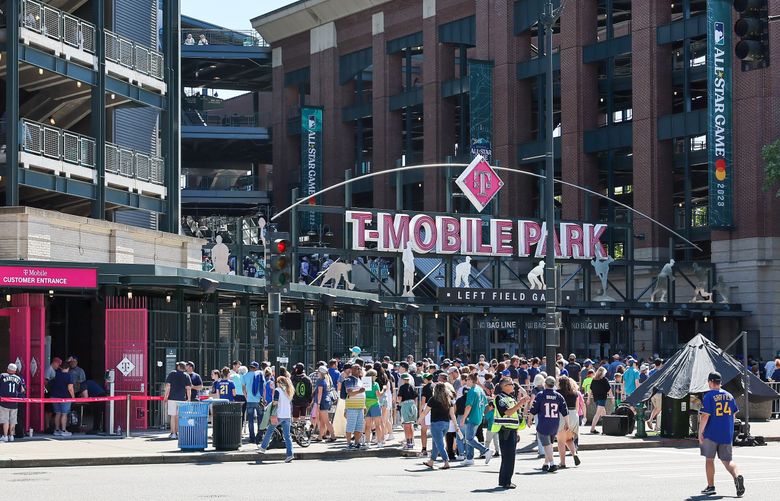 More
All-Star Week activities abound at Play Ball Park in and around Lumen Field
More than 50 indoor and outdoor attractions for fans of all ages greet baseball fans at Play Ball Park from Saturday through Tuesday during MLB All-Star Week inside and outside Lumen Field and the Event Center in Seattle.
Fans have opportunities to receive free autographs and participate in question- and-answer sessions and clinics led by former players, all of which is included with the price of admission to Play Ball Park's indoor section. Additional games and attractions include batting cages, the MLB Arcade including Home Run Derby VR, MLB The Show 23 gaming stations, a curated exhibit from the National Baseball Hall of Fame & Museum, an interactive display from the Negro Leagues Museum, mascot home run derbies, Home Plate Bounce & Home Run Robber, major league trophy displays, pitching tunnels, the "World's Largest Baseball," and Rookie Leagues and the MLB Draft Experience.
SEE MORE >>>
—Karen Ducey
Here are contestants and matchups for the Home Run Derby in Seattle
With Luis Robert Jr. and Adolis Garcia accepting invitations the past few days, the field of eight for the 2023 T-Mobile Home Run Derby in Seattle this Monday was finalized.
Wednesday afternoon on a special broadcast, ESPN released the seeding and bracket for the annual display of power by some of Major League Baseball's top home-run hitters.
Because of his slow start this season, Rodriguez will have to go up against two-time Home Run Derby champion Pete Alonso, who was seeded second, in the first round. Alonso, nicknamed the Polar Bear, won the event in 2019 and 2021.
It will be a rematch of the 2022 Home Run Derby semifinals at Dodger Stadium in Los Angeles, where Rodriguez defeated Alonso 31-25 to advance to the finals.
READ MORE >>>
—Ryan Divish
How to celebrate MLB All-Star Week at any budget in Seattle
If you wanted to attend every MLB All-Star Week event VIP-style, the package deal for a single person can top $10,000. But enjoying a weekend of baseball doesn't have to break the bank.
The All-Star Game on July 11 will pit top Major League Baseball players like Ronald Acuña Jr. and Shohei Ohtani against one another at T-Mobile Park. But on top of the game itself, the Seattle Mariners and MLB collaborated with local groups to hold five days of festivities around the annual event. For $35 or less per person, you can attend a unique baseball game like the HBCU Swingman Classic or spend a day getting autographs and playing ball in Pioneer Square.
The Mariners prioritized making All-Star Week budget-friendly from the get-go, said Jeremiah Yolkut, MLB vice president of global events.
"Baseball, by the nature of how we are as a game, is really all about playing the game wherever you are," he said. "If you want to make the game accessible, you also have to make the events accessible."
Below, we've broken down the best ways to celebrate All-Star Week, whatever your budget or availability.
READ MORE >>>
—Aviva Bechky
The 2023 MLB All-Star Game puts Seattle, and Mariners fans, in the spotlight
The original plan for this story was to write about Julio Rodriguez as the ebullient host of the 2023 All-Star festivities at T-Mobile Park.
The Mariners' "Young Simba," welcoming a national audience to his kingdom.
But baseball can be cruel and mocking when it comes to the most thought-out plans and even more disruptive and callous to budding superstars expecting to become transcendent players. …
But this first half of the season has felt more leaden than golden. The Mariners' goals of competing for a division title died before July and the secondary expectation of reaching the postseason is fading but not erased.
One season does not an era make in either direction. But it also wasn't working as a pivot subject.
Instead, this story is now about what it probably should've been about in the very beginning. A constant that has withstood the torturous nature of baseball with the struggles to find seasons of success and enduring too many considered failures.
READ MORE >>>
—Ryan Divish
Everything you need to know about the MLB All-Star Game at T-Mobile Park
MLB All-Star Week is here, Seattle.
The best of the best in baseball take to the batter's box and field at T-Mobile Park for the All-Star Game on July 11. But the party extends way past the diamond.
From details about every event — starting with the HBCU Swingman Classic on Friday night and including Monday's Home Run Derby — to ballpark treats, how to have fun on a budget and navigating the busy city, we've got you covered across the board here at The Seattle Times.
Here's where you can find everything you need to know about all the All-Star Game festivities.
—Seattle Times sports staff

Seattle Times sports staff