USA News
Fox News defends Casey DeSantis amid 'Walmart Melania' attacks
Fox News hosts on Monday came to the defense of Casey DeSantis amid a trend of mockery that has recently been directed at her.
Casey DeSantis is the wife of Ron DeSantis, the governor of Florida and a prominent candidate seeking the GOP presidential nomination in 2024. Throughout the official campaign, she has been positioned at the forefront, with her own page on the official campaign website detailing her personal and professional background, as well as her various initiatives as the first lady of Florida. Many observers have noted that she has been a more charismatic presence for the campaign than her husband, who has been criticized for a perceived lack of social skills.
Just as her husband has been the subject of scrutiny over his various anti-LGBTQ+ and "culture war" political pursuits, Casey DeSantis has also received a wave of backlash from detractors. This has notably taken the form of various mocking nicknames comparing her to various former first ladies like Melania Trump by being called "Walmart Melania."
During a recent appearance on MSNBC, former GOP Representative David Jolly said that while Casey DeSantis has proven to be more charismatic on the campaign trail than her husband, some people still perceive her as "America's Karen."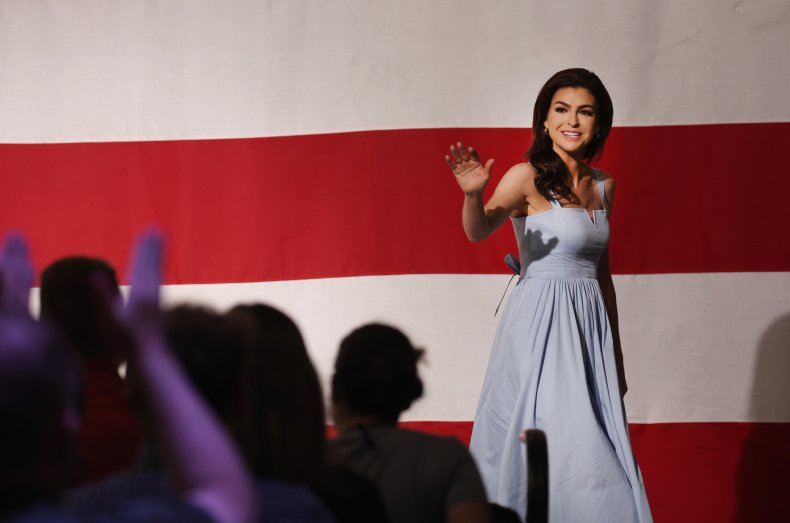 On Monday, the hosts of Fox News' Fox & Friends came to the defense of Casey DeSantis against the mockery from her detractors, specifically citing the comments from Jolly.
One host dismissed the "Walmart Melania" comment made by "other networks," expressing admiration for both Walmart and Melania Trump. Meanwhile, another made a similar dismissal of comparisons made to former first lady Jackie Kennedy, calling it a compliment.
"She's going to bat for moms and parents," host Brian Kilmeade said. "She should say, 'guilty as charged, that's my message.'…That's her focus and she's unbelievably eloquent on the microphone."
Newsweek reached out to Fox News and the DeSantis campaign via email for comment.
The MSNBC segment in which Jolly mentioned the "America's Karen" nickname was ultimately complimentary to Casey DeSantis, invoking the nickname only in reference to other people's reactions to her. Jolly, a former congressman who represented Florida, called her the "brighter side" of her husband, but added that her influence could not do much to launder the governor's messaging.
"She's a more effective messenger than Ron DeSantis, but if all she's doing is amplifying her husband's messages, she's actually only clarifying his weaknesses," Jolly said. "It doesn't matter if it's presented in heels or boots, the DeSantis doctrine is a losing one."
Fox News has been accused by some in the conservative realm of showing favoritism toward the Florida governor, especially in comparison to former President Donald Trump, who leads him in early polls by a significant margin.
Last month, Trump wrote on Truth Social, his social media platform, that the conservative network "should embrace MAGA."
"FOX SHOULD EMBRACE MAGA. THEIR PRIMETIME VIEWERSHIP IS DOWN 37% FROM JUST A YEAR AGO, ALL BECAUSE THE VERY SMART, EVEN BRILLIANT, MAGADONIANS KNOW THAT, DESPITE ALL THE FAKE LIP SERVICE, FOXNEWS IS PUSHING RON DESANCTUS, OR ANYONE ELSE FOR THAT MATTER, BECAUSE THEY HATE THE GREATEST "AMERICA FIRST" PRESIDENT TO EVER PUT ON A SUIT AND TIE, ME. THEY ARE ALL GLOBALISTS, AND GLOBALISTS WILL NEVER, MAKE AMERICA GREAT AGAIN!!!"