Islamic
Killer Queen sale: Freddie Mercury's possessions go up for auction
A black lacquered baby grand piano at which Freddie Mercury composed and developed some of Queen's biggest hits, including Bohemian Rhapsody, is the centrepiece of a sale of the singer's possessions next month.
The Yamaha baby grand piano is on display at Sotheby's auction house in central London for the next month, until almost 30,000 objects, artworks, items of clothing and furniture, photographs, handwritten lyrics and other items which made up the "exquisite clutter" of his life go under the hammer.
The free exhibition brings together Mercury's private and public worlds, from his gold and platinum discs and lavish stage costumes to personal Polaroid photographs, hip flasks and a travel Scrabble board that accompanied the star on tour.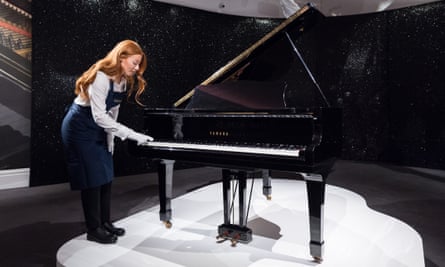 "Freddie was a hoarder, he didn't throw anything away," said Thomas Williams, a Sotheby's director. "His possessions give us an extraordinary 360-degree view of the man, from his childhood until his death."
Mercury died in 1991 at the age of 45, just 24 hours after confirming in a statement that he had Aids and appealing for his fans to join "the fight against this terrible disease".
He left his Kensington home, Garden Lodge, and its contents to Mary Austin, one of his closest and most trusted friends. Now, 32 years after he died, Austin has decided to sell everything.
Estimates range from about £20 for a china ornament to up to £3m for the baby grand. In total the auction is expected to fetch between £7.6m and £11m, "but masses of people will be in a position to bid for a little piece of Freddie", said Williams.
The exhibition is arranged thematically over Sotheby's 15 galleries. One room is devoted to Mercury's interest in and passion for Japanese art and objects, collected over seven visits to the country.
"He fell in love with the country and the culture, and it had a clear influence on his stagecraft. There was a flow between the art he collected and the art he created," said Williams.
At Garden Lodge, a special Japanese-style drawing room was his private sanctuary, with lacquer boxes, tea sets and vases decorated with Koi carp among the items displayed in cabinets. Mercury collected about 50 silk kimonos, some of which formed part of his stage costumes.
Another room has been recreated as the Garden Lodge dining room in which Mercury threw regular dinner parties, with guests' names, menus and dress codes recorded in a special leather-bound, gilt-tooled book.
"Très casuelle" was the instruction for one occasion. Another night was curry-themed, harking back to Mercury's childhood in Zanzibar and Mumbai. Birthdays and Christmas were extravagantly celebrated in the high-gloss, bright yellow dining room.
"Freddie was a great entertainer, not just on stage, but at his fabulous dinner parties and gatherings," said Williams.
Mercury's collection of cat art, ornaments, T-shirts and other items that paid homage to his six cats, all originally strays, are grouped together. "He really indulged his obsession with cats," said Williams.
Polaroids of Mercury with one of his cats on his lap are among a collection of personal photos, being sold as a single lot, that show "really candid, intimate moments". Another pair of Polaroids show the star seated before an enormous fry-up, and one taken shortly afterwards showing the plate empty.
One highlight is a multicoloured, illuminated 1941 Wurlitzer jukebox, "an icon in its own right", according to Williams. Mercury moved it around his house before it took up permanent residence in his kitchen, the "beating heart" of Garden Lodge.
It played some of his favourite records, including Hallelujah I Love Her So by Ray Charles and Rip It Up by Little Richard. "It sounds as cool as it looks," said Williams.
Mercury's sense of fun and glamour runs through the collection. "I like to be surrounded by splendid things … exquisite clutter," Mercury wrote in Freddie Mercury: A Life, In His Own Words.
Austin will donate some of the proceeds of the sale to the Mercury Phoenix Trust and the Elton John Aids Foundation.
Freddie Mercury, A World of His Own is at Sotheby's, New Bond St, London until 5 September. More details and auction catalogues are available here.