World Wide News
Kosovo parliament descends into chaos after lawmaker throws water on prime minister
A brawl broke out in Kosovo's parliament Thursday after a lawmaker in the opposition party walked up to the podium where the prime minister was speaking and doused him with water. 
Prime Minister Albin Kurti had been speaking on efforts to defuse tensions between majority Albanians and the Serb-majority north that have escalated in recent months. The opposition party has long criticized Kurti for his handling of the deteriorating relationship that has strained relations with Western allies.  
Video from inside parliament on Thursday shows an opposition party MP throwing water at Kurti and his deputy. Fistfights quickly broke out after other opposition and governing coalition lawmakers approached the podium. 
Kurti was pushed away from his MPs and bodyguards as lawmakers from both sides attacked each other until police intervened. 
RUSSIAN ANTI-WAR ACTIVIST BANNED FROM ENTERING HOME COUNTRY OF SERBIA FOLLOWING VACATION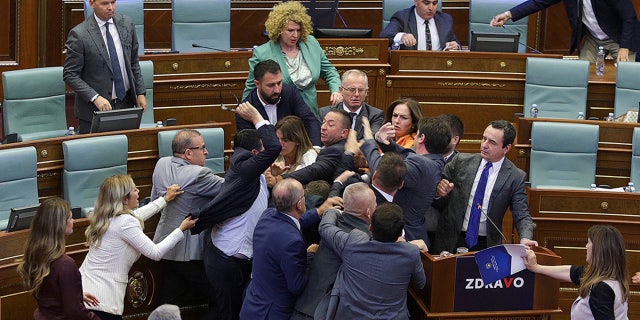 The brawl capped off a heated three-day public debate over an audio recording between the chairwoman of Kurti's party, Mimoza Kusari-Lila, and then Serb lawmaker, Slavko Simic.  
Kusari could be heard saying that she previously spoke on the phone with an official of Serb ethnicity, Milan Radojcic, who is sanctioned by the U.S. government over organized crime and corruptive activities. He's also a wanted person by Kosovo authorities.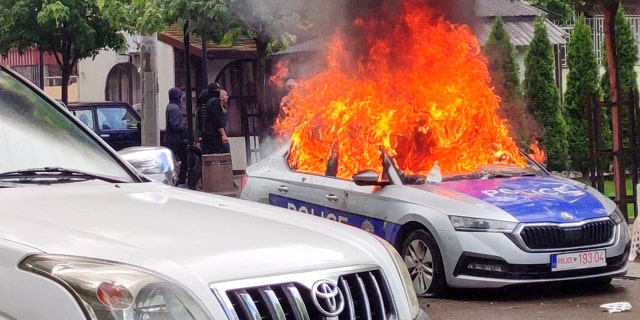 The controversy over the recording comes amid a backdrop of unrest in the north that has intensified since ethnic Albanian mayors took office in northern Kosovo after April elections that the Serbs boycotted demanding implementation of a decade-old deal for more autonomy. 
Ethnic Albanians make up 90% of Kosovo's population, while Serbs account for about 5%.
On Wednesday, Kurti said he has agreed with the EU to scale down the police presence in the north and take other measures to lower tensions.
CLICK HERE TO GET THE FOX NEWS APP
The NATO said 93 of its peacekeeping soldiers were injured in clashes with Serb protesters, some of them severely, on May 29. Doctors in the north said 52 Serbs were also injured.
Reuters contributed to this report.