World Wide News
Leading Thailand candidate for PM warns of 'high price' if blocked from power
The leader of Thailand's most popular party has warned of a high cost if he is blocked from taking power, after he was dealt a series of blows on the eve of a parliamentary vote to decide the next prime minister.
Pita Limjaroenrat's progressive Move Forward party won the most seats in May's election after promising major reforms to remove the military from politics, break up powerful monopolies and change Thailand's lese-majesty law.
But he is facing an uphill battle as election rules require him to have majority support from parliament to become prime minister – which means he must win backing from enough senators, who were appointed by his military opponents.
The ballot, which is hard to predict, will begin at 5pm local time on Thursday.
In comments to local media on Wednesday, Pita said there would be "a high price to pay in terms of principle and political standards" were he to be blocked from taking office. "This is about the voice of the people who cast their votes," he said.
Pita was speaking after facing significant setbacks related to legal cases filed against him. On Wednesday, the election commission announced it had referred a legal case accusing him of breaching election rules by owning media shares to the constitutional court, and recommended he be suspended as an MP. Pita has denied any wrongdoing.
It was later announced that the constitutional court said it had accepted a second complaint against him and his party, saying that its plan to reform the strict lese-majesty law, which protects the monarchy from criticism, amounted to an attempt "to overthrow the democratic regime of government with the king as a head of state".
The cases do not prevent Pita from running to become prime minister during Thursday's ballot. However the developments were perceived by his supporters as politically motivated attempts to block him, and provoked protests in several areas on Wednesday.
Crowds gathered in the evening in central Bangkok, with some holding signs that read "Respect my vote" and "Senators don't vote against the people's will".
"It's clear to see that the old powers won't accept defeat easily," said Piyachart Kamonchot, 62, who had turned out in Bangkok to show support for Move Forward. "The previous government will try to do everything to block the new government … The people can't tolerate this any more. It has already been more than nine years."
Thailand has been led by the former army chief Prayuth Chan-ocha since he took power in a coup in 2014 and was appointed prime minister by parliament after elections in 2019. His party came a humiliating fifth in May's vote.
Arnon Nampa, a human rights lawyer and activist who was at the forefront of monarchy reform protests that erupted in 2020, addressed crowds in Bangkok, saying: "Tomorrow, if we are betrayed, if we are prevented from having a government elected by the people, we will definitely stand up and fight."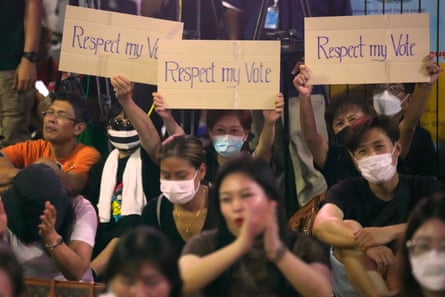 Pita has formed a coalition with other opposition parties that will grant him 312 votes. This means he needs at least 64 votes from either senators or MPs outside his bloc.
The big point of contention for senators is his party's promise to reform the lese-majesty law under which criticism of the monarchy can lead to up to 15 years in prison. It has been used against more than 250 people, including children, since 2020, when mass youth-led protests that called for reforms to the monarchy including cuts to its budget.
Prinya Thaewanarumitkul, assistant law professor at Thammasat University, questioned the speed with which the election commission announced its conclusions on Wednesday, just a day ahead of parliament's vote.
"Regarding this urgency, is the reason only for the senators to not vote for the prime ministerial candidate that has been elected by the majority of the people?" he wrote on social media.
Ken Lohatepanont, a commentator on Thai politics, said the legal developments were unlikely to change senators' minds.
"The senators who were going to vote for Pita based on arguments on democratic legitimacy are likely to cast a vote the same way, and the senators who did not want to vote for Pita simply have a new justification," he said.
No other candidate will run as an alternative to Pita on Thursday. However, the ballot can be rerun if Pita fails to gain enough support. It is possible that Move Forward's coalition partner Pheu Thai, the party associated with exiled leader Thaksin Shinawatra, could put forward a candidate for a second or third ballot.