USA News
Larry Nassar: Disgraced gymnastics doctor was stabbed in jail after making lewd remark during Wimbledon match
Disgraced gymnastics doctor Larry Nassar was stabbed in his prison cell after making a lewd remark during a women's Wimbledon match.
Nassar – a former doctor for USA Gymnastics who was sentenced to more than 300 years in jail for sexually assaulting children and possessing child pornography – was stabbed in a Florida prison on Sunday.
Fellow inmate Shane McMillan, who has previously been convicted of assaulting officers and prisoners, is accused of carrying out the attack.
He reportedly attacked Nassar in his cell with a makeshift weapon – stabbing him in the neck, chest and back before he was pulled away.
Nassar was given life-saving measures by prison guards and taken to hospital.
McMillan told prison workers he attacked Nassar because he apparently said he wanted to see girls playing in a Wimbledon women's match on television.
His lawyers have been approached for comment.
Prison cells at most federal units are left open during the day, allowing inmates to move freely around the facilities.
Because the attack happened in a cell, there is no CCTV footage.
Read more:
Abuse victims of disgraced gymnastics doctor reach settlement
Simone Biles 'wouldn't let daughter become gymnast' after abuse scandal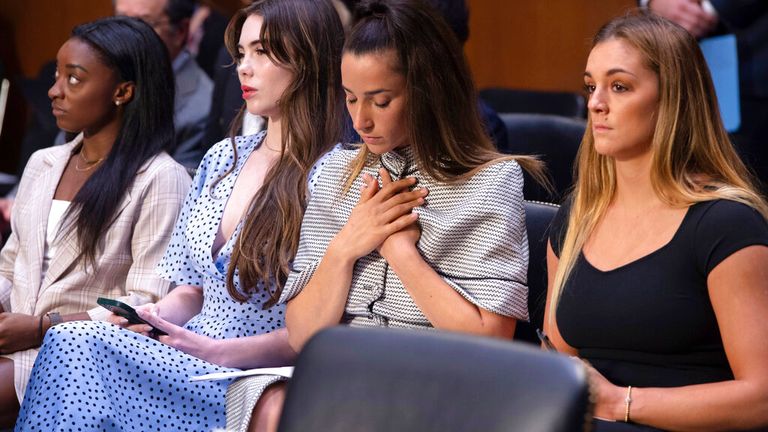 Nassar was jailed in 2018 after more than 250 athletes – including Olympians Simone Biles and Aly Raisman – accused him of sexual assault.
He is likely to die in prison, with his earliest release date – if he is paroled for good behaviour – being the year 2108, when he would be 144.
During victim impact statements in 2018, several athletes told the court that – over the course of two decades of sexual abuse – they had told adults what was happening, including coaches and athletic trainers, but it went unreported.
In December 2021, the victims of Nassar reached a settlement of almost $400m (£302.7m) with USA Gymnastics, the US Olympic and Paralympic Committee and insurers after a five-year legal battle.
The settlement agreement covered claims brought by Olympic gold medallists including Biles, Raisman and McKayla Maroney – all of whom are among the former doctor's most high-profile victims of sexual abuse.