World Wide News
Nato entry elusive, Ukraine gets G7 pledge for long-haul security – Times of India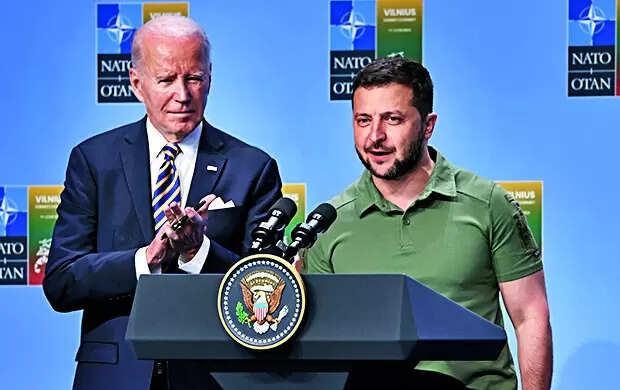 VILNIUS: The G7 countries unveiled new security assurances for Ukraine at a Nato summit on Wednesday, designed to bolster the country's defences against Russia over the long haul while Kyiv strives for membership of the alliance. The prospect of long-term protection from members of the world's most powerful military bloc comes a day after President Volodymyr Zelensky decried as "absurd" a refusal to offer an invite or timetable for Ukraine's entry into Nato.
A declaration by the G7 countries launched a framework for bilateral negotiations to provide military and financial support, intelligence sharing and a promise of immediate steps if Russia should attack again. "Our support will last long into the future. It's a powerful statement of our commitment to Ukraine," President Biden said alongside Zelenskyy and leaders of the G7, which is made up of the US, Germany, Japan, France, Canada, Italy and Britain. "We're going to be there as long as that takes."
Swallowing his disappointment over the lack of a membership timetable, Zelensky called the outcome a "meaningful success" and followed a flurry of announcements of military aid for Kyiv. He described the initiative as a bridge toward eventual Nato membership and a deterrent against Russia. The first sitting of a new Nato-Ukraine Council was also held, a new format designed to bring Kyiv as close as possible to the 31-nation alliance without actually joining it. On Tuesday, the leaders said in their communique that Ukraine can join "when allies agree and conditions are met". Under Article 5 of the Nato charter, members are obligated to defend each other from attack, which could swiftly draw the US and other nations into direct fighting with Russia. Dmitry Medvedev, the deputy secretary of Russia's powerful Security Council, said Nato's increasing military aid was bringing closer a WWIII.